Winner of 2017 Ohio News Photographers Association, Nov. 3rd place photo story/essay
Tornado and fire three weeks apart devastate family
By Molly Corfman
Nov. 6, 2017
Story 1 of 2 
TOWNSEND TOWNSHIP – Every Sunday, the Weyer family eats dinner together at home. But on Nov. 5, there wasn't any sports on they wanted to watch. So instead, most of them went bowling.
"If we were here, my grandkids would have been playing in this room when the tornado hit," Connie Weyer said as she pointed to a pile of rubble where half of the house once was on State Route 412. She and her husband live with and care for her parents who own the house.
The National Weather Service determined an EF 1 tornado hit Townsend Township in Sandusky County on Sunday, with winds as high as 100 miles per hour.
The family of parents, kids and grandkids waited out the storm in Sandusky. They hurried back to check on Connie's parents, who were home when the tornado hit.
Connie said her parents were in the living room when the tornado hit. They described the tornado as sounding like a whistle which only lasted a few seconds. The force of the wind blew Connie's mother's bedroom door shut. The door then blew open, and when they looked out the bedroom was gone.
Connie's mother's mattress was blown halfway across the yard. The satellite dish blew into the house, then away. The force of the wind picked up their 32-foot Coachman camper, lifting it over a 10-foot cement deck and overturned on its side, Kevin Weyer, Connie's husband, said.
Tornado and fire three weeks apart devastate family 4:30
Yesterday a tornado hit the house. Three weeks ago, the pole barn burned down. Connie and Kevin Weyer are trying to put their lives back together and take care of their parents, who own the house in Townsend Township in Sandusky County.
FIRE THREE WEEKS AGO
On Oct. 14 around midnight, the family was devastated by fire.
"I came out, and it was blazing by the time I got out of the house," Kevin said, as he described the magnitude of the fire that destroyed their 95' x 45' pole barn.
The cause of the fire was determined as electrical, Kevin said. The pole barn contained propane gas tanks that made a popping noise as it burned, he said.
"There was nothing they could do to put it out, they just saved the buildings around it," Kevin said.
Lost in the fire was an antique 1976 bicentennial liberator edition Harley Davidson motorcycle, and antique cars that included a '50 Mercury, '56 Ford, '48 Ford, '50 Ford, and '67 Mustang convertible owned by his in-laws who own the house.
PICKING UP THE PIECES AND MOVING ON
Kevin paused for a moment while he thought of everything he has collected in his life and what he and his family have recently lost.
Connie and Kevin have been married 32 years, and Connie's parents have been married 60.
Their grandchildren's toys scatter throughout the village in the backyard Kevin built for them as a playground. Kevin picked up a walkie-talkie blown into the yard.
With tears in her eyes, Connie looked at the blown off walls that used to contain half her home.
"I just thank God we have our family. My family is okay. My grandkids aren't in that room," she said with tears in her eyes as she pointed to the rubble.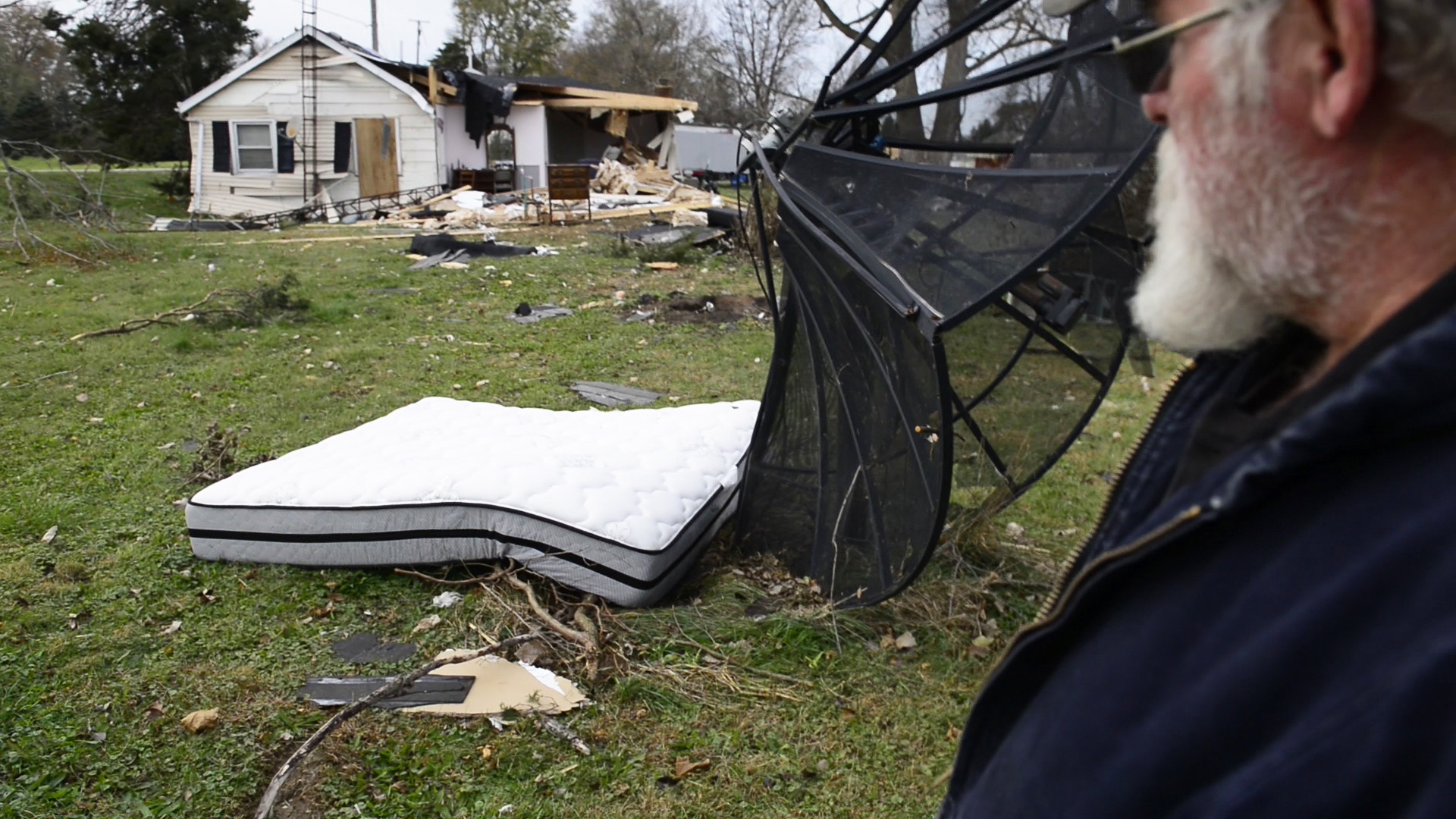 Waiting to pick up the pieces, insurance after fire then tornado
By Molly Corfman
Nov. 6, 2017
Story 2 of 2 
TOWNSEND TOWNSHIP – Winter's approaching and the Weyer family is still wading through insurance red tape.
An Oct. 14 fire destroyed the Weyer family's pole barn, including five vintage cars and a vintage Harley-Davidson. Three weeks later, a tornado ripped the house apart and flipped one of their backyard campers.
Their yard is littered with storm debris and the ashy, burnt out shells of vintage cars still sit uncovered amid the ruins of their barn.
The family can't move anything until their insurance company finishes its damage assessment.
They want to clean up and rebuild. But, while the rain and snow fall, they can't clean up their broken house.
There's a picnic table still wedged into the side of one of Connie Weyer's backyard campers on Ohio 412, a tribute to the brute force of an EF 1 tornado that tore off part of the home where she lives with her parents, who own the house.
The tornado touched down Nov. 5, damaging the Weyer's home and several others in the area.
After the fire and tornado, The News-Messenger profiled the family's struggles and returned last week to see how they were dealing with the burdens brought on by the unforeseen events.
A television set is still plugged into the wall of a nearby camper, while a mattress ripped from her parents' bedroom sits at the foot of a mangled satellite dish crushed by swirling winds with speeds reaching 100 mph.
The circle of campers served as a decades-old family gathering place for Connie, her husband, Kevin, her parents, Wanda and Darwin Moore, and plenty of kids, grandkids and Weyer's family members.
"Of course, this all takes time. It's just frustrating, especially for the in-laws. They are 77 and 75. This is the only house they have ever lived in and they want it fixed," said Kevin Weyer.
Waiting to pick up the pieces, insurance after fire then tornado 3:42
The Weyer family hired a public adjuster to work as a buffer between them and the insurance company. It has been five weeks since their barn burned down, and two weeks since their house blew apart from the winds of an EF 1 tornado.
Public adjuster
The Weyers have hired a public adjuster to act as a buffer between Connie's parents, who own the house, and the insurance company.
"They paid insurance for their whole lives and never had a major claim like this," Kevin said. "You want to make sure that everything that is damaged will be done, not just covered up by a contractor."
The public adjuster will do all adjustments and communicate with the insurance company, Kevin said.
"And if they have any discretions, they talk to him, not us," he said of the insurer.
Jodi Dorman, a spokesman for Munich Reinsurance America, said corporate policy is "not to comment on claims or discuss our customers with the media."
The public adjuster has scoped the house with a camera in the attic and separated the burnt contents of the pole barn into piles.
The section of the house that the tornado blew away was built in March. Kevin said he fears the house has structural damage.
"Inside there are a lot of walls that are cracked, ceilings that are cracked," he said. "It's more than meets the eye on the outside."
Waiting to clean up and rebuild
While the Weyers wait, the weather has become colder, and rain and snow have fallen onto the inside of the exposed house.
On a chilly fall day, Kevin walks around broken, downed trees in his yard and steps over toys blown around as he points to a grill still tipped over on his back poach.
"I was going to set that up. And they said, 'Don't touch nothing until I tell you to,'" he said.
He said he feels frustrated because he wants to clean up his yard on advice from the public adjuster even though he has friends willing to help him.
The insurance company requires proof of damaged items to for their claim along with the quality of the items.
"I can't throw that mattress away before an insurance company comes out here." Kevin said. "What kind of mattress it that – Is that a Big Lots mattress or is that one we bought at the Mattress Factory? So if we burn it or get rid of it, it's our word against theirs, there is no proof."
"The frustrating part is we can't really touch to much yet until the insurance and the claims and everything is done," he said.
Kindness of friends
Connie said she has watched people trespassing on the property since the tornado hit.
"We get a lot of lookie-lookers," she said. They think that we don't see them, but we see them."
She said her brother who lives next door has chased people off the property at night. She thinks the people intended to steal.
"But, it's all broken," she said. "Everything that is out there is broken up now."
The members of the Christian Motorcycle Association Connie and Kevin belong to have bought them food and taken them out to dinner.
"They have all been so kind to us," she said. "Just about every one of them has helped out in one way or another."
Connie's mother's bedroom was blown away, including most of her clothing. Kevin's co-workers bought her a new wardrobe, Connie said.
"They just brought bags and bags of clothes for my mom," she said.
A family in Bellevue donated a Thanksgiving dinner, including a turkey, stuffing, potatoes, fruit salad, cranberries and two pumpkin pies.
Connie said the kindness of strangers brought her to tears as the food was delivered to her family on Thanksgiving.
"We don't even know them," she said.
A family together, surviving the tornado 1:18
Every Sunday, the Weyer family eats dinner together at home. But on Nov. 5, there wasn't any sports on they wanted to watch. So instead, most of them went bowling. Then the tornado hit.
A family together
Every Sunday for decades the Weyer family has spent the day at the house together. Four generations of family enjoy each other's company, watch sports and picnic outside when the weather is nice.
The day the tornado hit there weren't any sports on they wanted to watch. So instead, most of the Weyers went bowling in Sandusky.
They heard the emergency sirens they sought shelter at Kevin's workplace. When the family heard the tornado hit their house, they held hands and prayed.
In the kitchen of her damaged house, Connie held her 3-year-old granddaughter, Kaydee Weyer, as she stirred a pot of Sloppy Joe mix over the stove.
Connie asked her granddaughter if she was scared when the tornado hit. Kaydee tried to explain what happened in simple terms she could understand.
Kaydee motioned her hand in a swirl when asked if she knows what a tornado is.
"A tornado goes up and down, up and down," Kaydee said.
Both too young to fully comprehend, her 5-year-old sister, Becca Weyer, described a tornado as wind twirling around when hot and cold air mix together.
The children run through the house and play. They used to run in a circle through the section of the house that was blown away by the tornado.
"I thank the Lord that we weren't home," Connie said. "They would have been in that."